AC Milan Jerseys
ElmontYouthSoccer provide AC Milan Jerseys for sale, custom soccer replica & authentic soccer jereys.
Buy authentic soccer jerseys with the names and numbers of your favorite players, from Zlatan Ibrahimović, Rafael Leão to Sandro Tonali.
We customiaze soccer gear for men, women and kids. Personalize almost everything with your name, number, team logo, national flags, and more! No minium orders. Buy one of anything for yourself, or get your team added to our store for easy buying.
AC Milan Jersey Sale: Short Sleeve Jerseys | Authentic Jerseys | Retro Jerseys | Jackets & Windbreaker and so on.
Basic Information of AC Milan

Full name: Associazione Calcio Milan S.p.A.

Founded: 1899; 123 years ago, as Milan Foot-Ball and Cricket Club

Chairman: Paolo Scaroni

Head coach: Stefano Pioli

Home grounds: Campo di Viale Lombardia (1920-1926) | San Siro (1926-)

Club records: Most games played: Paolo Maldini (902) | Top goalscorer: Gunnar Nordahl (221)

Main trophies: Italian Football Championship/Serie A: 18 | Coppa Italia: 5 | European Cup/Champions League: 7 | UEFA Cup Winners' Cup: 2 | Italian Football Championship: 1901, 1906, 1907 | Coppa Italia: 1966–67, 1971–72, 1972–73, 1976–77, 2002–03 | European Cup: 1962–63, 1968–69, 1988–89, 1989–90 | UEFA Champions League: 1993–94, 2002–03, 2006–07 | UEFA Cup Winners' Cup: 1967–68, 1972–73
AC Milan timeline
1899 | The club is established as Milan Foot-Ball and Cricket Club.
1901 | Winnings its first scudetto.
1905 | Winnings its first Palla Dapples.
1908 | After an internal dispute, breakaway players form Internazionale Milan.
1919 | The club change name to Milan Football Club (Milan FC).
1926 | Moving to San Siro.
1936 | The club change name to Milan Associazione Sportiva.
1939 | The club change name to Associazione Calcio Milan (AC Milan).
1949 | Gunnar Gren, Gunnar Nordahl and Nils Liedholm (known as Gre-No-Li) are transferred to the club.
1963 | Become the first Italian side to win the European Cup.
1967 | First Coppa Italia victory.
1969 | First Cup Winners' Cup victory.
1969 | First Intercontinental Cup victory.
1988 | First Supercoppa Italiana victory.
1980 | The team is demoted to the second division due to a match-fixing incident.
1986 | Silvio Berlusconi become the new club president.
1987 | Arrigo Sacchi is appointed as manager.
1994 | First Champions League title.
2007 | Winning FIFA Club World Cup.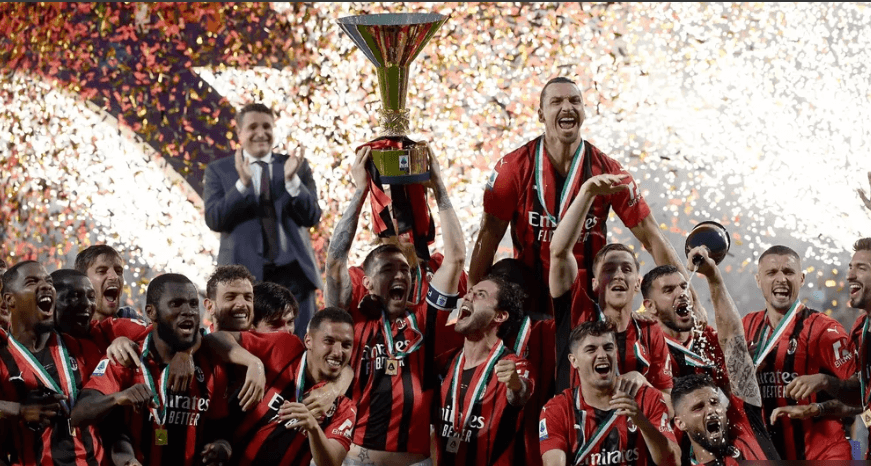 HIstory
To say which club is the most successful Italian football club internationally, AC Milan is definitely on the list. The acronym AC stands for Associazione Calcio, which in English can be translated as "Kick Club".
Not many others than fans familiar with history should know that one of the most famous Italian icons like AC Milan was actually founded by two British expats, Herbert Kilpin and Alfred Edwards. And when it first started, the club was actually composed of two parts: the football club and the cricket club. Football soon dominated, so in 1919 the club was renamed Milan Associazione Sportiva and later Associazione Calcio Mila.
Over the next 20 years, AC Milan won seven more Serie A titles, two European Cups and two Cup Winners' Cups, as well as four Coppa Italia trophies.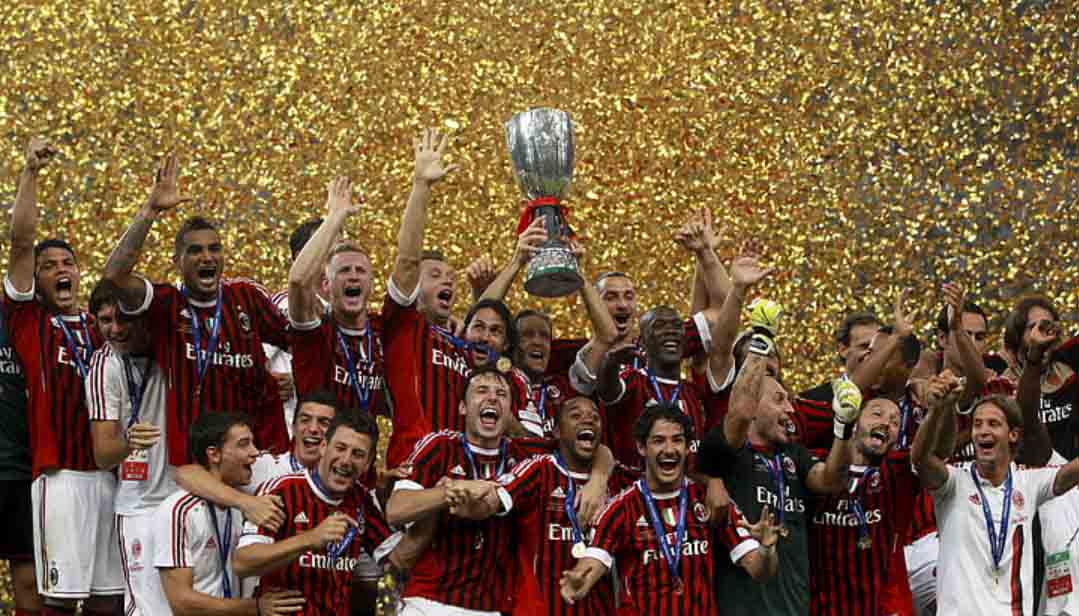 Led by talented young coach Arrigo Sacchi, AC Milan won their 11th Serie A title in 1988 and two European Cups in the following two years. AC Milan added five more Serie A titles later on during the appointment of Fabio Capello as new coach. Some of the most prominent players of "I Rossoneri" (one of the club's nicknames) in the new millennium are Andrea Pirlo, Clarence Seedorf, Kaká, Alessandro Nesta and Andriy Shevchenko.